Extend the Life of Cut Flowers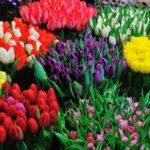 The U.S. floral industry includes fresh cut flowers, cut cultivated greens, potted flowering plants, foliage plants and bedding/garden plants, making floriculture the third largest U.S. agricultural crop. Included in within the industry are more than 60,000 small businesses, such as growers, wholesalers, retailers, distributors and importers. Floral wholesale and retail operations are billion dollar industries where time and customer impressions translate into dollars.
Studies show soaking cut flowers in ozone solution can increase the shelf-life of cut flowers from approximately 5 days to 13 days,with a corresponding improvement in their aesthetic appearance throughout the vase-life of the cut rose stem. Results suggest that vase-life improvements are achieved through a reduction in bacterial populations present in the storage solution. Longer shelf-life translates to happier customers and improved brand perception, helping businesses come out smelling like a rose.
Aqueous ozone can extend vase-life in cut rose
Journal of Horticultural Science & Biotechnology (2009) 84 (1) 97–101
Products